Comedian Robert G. Lee
Wed. Jun 14, 2023 at 7:00pm EDT
79 days away
Price: $27.00
All Ages
Event Stats
79 days away
Price: $27.00
All Ages
Event Description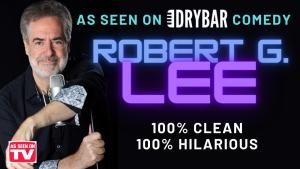 Not Many Comics...


Make the cover of The Wall Street Journal


Have released eight 100% clean comedy videos


Warm up audiences for Hollywood's top sitcoms


Can perform the entire Bible in under 30 minutes


Have written and directed a feature motion picture


Well-known in the entertainment industry as Hollywood's top warm-up comic, Robert is a veteran of over 1,500 episodes of such shows as The New Adventures of Old Christine, Just Shoot Me, Becker, and The Drew Carey Show. He keeps countless audiences entertained for hours between scenes and set changes with rapid-fire ad-libs and humorous interviews.

No stranger to camera, Robert has starred in the Bananas Comedy series, Showtime's The Joke's On Thee, VH1's Stand Up Spotlight, Comic Strip Live, and a variety of roles on such sitcoms as Wings and Perfect Strangers.

Robert has combined his Christian world view with his Monty Python sensibility and written many Veggie Tales videos such as "Little Joe," "Gideon," and "Sheerluck Holmes."

To top it off, Robert recently released his latest comedy project, Wisenheimer and recently released a full-length, faith-based, screwball comedy feature film, Can I Get A Witness Protection? which he wrote and directed.