ROBINSON, FRANK
Fri. Aug 3, 2018 at 11:00am EDT
Event Description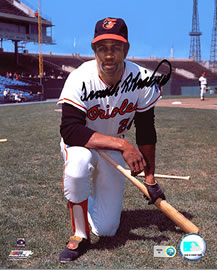 Former Star Outfielder for Reds, Orioles, Angels & Indians; Former Indians Manager; 14x All-Star; 1956 NL ROY; 1961 NL MVP, 1966 AL MVP; 1966 Triple Crown; 2x WS Champ; 1966 WS MVP; Hall of Fame 1982


REGULAR: Any size flat item, baseball, cap, or mini helmets



PREMIUM: All other items



INSCRIPTION:

One (1) career achievement inscription. No personalizations. Up to 5 inscriptions per item max.



PHOTO OP:

Posed photo with celebrity at TRISTAR Photo Booth. Photo taken approximately 15 minutes before appearance time. Good for one 8x10 photo printed on site. Autograph not included.