Lenny White & Friends
Fri. Apr 26, 2019 at 7:30pm EDT
$25.00 - $100.00
All Ages
Event Stats
$25.00 - $100.00
All Ages
Event Description
Performing Arts of Northeast Connecticut (P/Arts) and The Woodstock Academy are proud to welcome drummer and three-time Grammy Award recipient, Lenny White and Friends for an evening of Jazz at 7:30 p.m. on Friday, April 26 at the Center for the Arts at The Woodstock Academy.
Make your evening extra special by attending the preshow reception at 6 p.m. at the head of school's home. For $100, you'll be treated to hors d'oeuvres and drinks at the reception and premium parking and seating for the show.
We are excited to also offer a Masterclass and live learning session with Lenny White from 5:30-6:30 p.m. giving you the opportunity to see behind the scenes and learn from the best! Reserve your spot for just $2 in addition to any level show ticket.
---
Lenny White is best known for holding the drum chair of Chick Corea's Return To Forever in the 1970s. White is self-taught on drums and started his career on top, playing regularly with Jackie McLean (1968) and recording the legendary fusion album Bitches Brew with Miles Davis in 1969. White was soon working with some of the who's who of jazz including Freddie Hubbard, Joe Henderson, Woody Shaw, Gato Barbieri, Gil Evans, Stanley Clarke, and Stan Getz among others. As a member of Return To Forever during 1973-1976, White gained a strong reputation as one of the top fusion drummers, but he was always versatile enough to play in many settings. After the breakup of Return to Forever, White headed several fusion projects and his work with the Echoes of An Era (featuring Chaka Khan) and the Griffith Park all-star groups have been widely acclaimed.
Who are the The Friends?
Richie Goods
Bass
Richie is the youngest person ever inducted into the Pittsburgh Jazz Hall of Fame. Goods got an early start playing in church and clubs while still attending Pittsburgh Creative and Performing Arts High School. After graduating from the prestigious jazz program at Berklee College of Music, Richie moved to New York City, where he studied under jazz legends Ron Carter and Ray Brown. Richie credits jazz luminary Mulgrew Miller for helping him hone his jazz skills early in his career. Richie toured and recorded with Mulgrew for nine years. That opportunity brought Richie to the attention of many in the jazz community and afforded him the opportunity to record and tour with a variety of jazz and popular artists ranging from the Headhunters, Lenny White, Louis Hayes and the Cannonball Adderley Legacy Band, Milt Jackson, Russell Malone, Vincent Herring, the Manhattan Transfer and Walter Beasley to Brian McKnight, DJ Jazzy Jeff & the Fresh Prince, Whitney Houston and Christina Aguilera. Richie's lengthy discography also includes Grammy award-winning and platinum albums of Alicia Keysand Common. Richie most recently toured with Grammy winning trumpeter, Chris Botti. When not on tour, he can be found in his Westchester, NY studio, producing records for his company, RichMan Music, Inc. His first solo project with his fusion/funk band, "Richie Goods and Nuclear Fusion, Live at the Zinc Bar" and his latest release, "Three Rivers" received critical acclaim. Richie is busier and more excited than ever, touring and working on a new recording which will feature more of his acoustic bass work.
Tom Guarna & Quintin Zoto
Guitarists
Tom, a Grammy-nominated guitarist, composer and arranger, began his musical career at age 15, when his father introduced him to the guitar. His natural ability to play and compose with phrasing reminiscent of his idols, combined with a relentless drive to refine and invent a unique guitar style has made him a desired commodity in the music industry. He is currently performing and recording with jazz groups internationally, and is first-call on a wide range of projects, from session work, jazz venues, tours, and large arenas.
Quintin is one of the premiere young guitarists on the New York scene today. A Japanese-American raised in the rich musical city of Philadelphia. There he studied with jazz greats such as Larry Tamanini and Anthony Tidd. Quintin then went on to study at New York University. During his time there he learned from sone of the top artists in music such as Lenny White, Peter Bernstein, John Scofield, Don Friedman, Ron McClure, Billy Drewes, Lenny Pickett, and many others. In his time since he has had the opportunity to play in a lot different scenes, but always rooting himself in the jazz tradition. Quintin has played, recorded, and produced with musicians such as Lenny White, Nat Adderley Jr, Duendita, Wallace Roney, Tayla Parx, and many more.
Alex Collins & Vince Evans
Keyboardists
Alex is a New York City pianist, composer, arranger and vibraphonist. Since arriving on the scene, Alex performed at the Plaza Hotel, Dizzy's Club at Lincoln Center, Minton's, The Kitano Hotel, Cleopatra's Needle, Fat Cat Jazz and Smalls Jazz Club. In addition, Alex made his debut at the Tanglewood Jazz Festival with the Brandon Wright Quartet in 2010. He has had the honor of recording with great vocalist Michelle Coltrane on her record Awakening (2017), as well as drummer Gerry Gibbs on his #1 record, Weather or Not (2017). Alex can also be heard performing in the bands of Lenny White (drummer of Return to Forever) and bassist Lonnie Plaxico. As a sideman and leader, Alex has performed with noted musicians including: saxophonists Casey Benjamin, Ralph Bowen, Wayne Escoffery, Jon Gordon, Vincent Herring and Dick Oatts; trumpeters Darren Barrett, Tom Harrell, Sean Jones, Joe Magnarelli, and Jim Rotondi; guitarist Vic Juris; bassists John Benitez, Kenny Davis, David Finck, Gary Foote, Rufus Reid, Ben Williams and Buster Williams; and drummers: Steve Berrios, Johnathan Blake, Chris Brown, Jaimeo Brown, Alvester Garnett, Winard Harper, Clarence Penn, Ralph Peterson, Jr. and Tyshawn Sorey. Alex is a graduate of the Manhattan School of Music (M.M. Jazz Composition) and earned his undergraduate degree from the Eastman School of Music (B.M. Jazz Studies and Contemporary Media (Piano)). He received the Wynton Kelly Jazz Foundation Award for Jazz Achievement (2003) and participated in the prestigious Betty Carter's Jazz Ahead program (2006).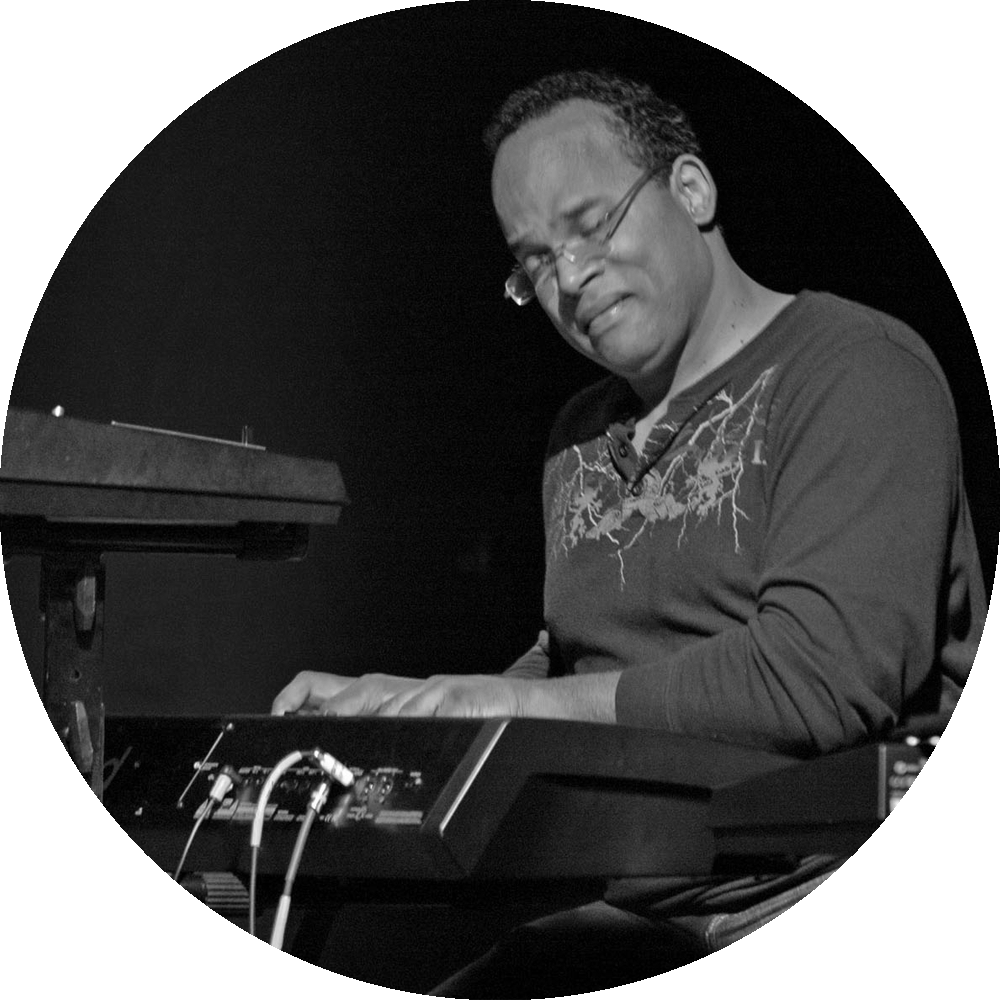 Vince is mostly recognized as a veteran musician and teacher of music. He has performed and recorded with many celebrities such as Prince, Phyllis Hyman, Al Jarreau, George Benson, Eddie Murphy, MC Hammer, Joe McIntyre, Commissioned, Jonathan Butler, Pieces of a Dream, Bill Withers, Gerald Albright, Luther Vandross, Lenny White, Lalah Hathaway, Isaac Hayes, Patti LaBelle, Angie Stone, Chuck Brown and Dianne Reeves...to name a few! He bases his operations from a recording studio, rehearsal space and teaching facility in Lanham, MD. His music preparation services are second-to-none and his talents as a music director are widely recognized in the music industry. He teaches vocal technique, piano technique, music theory, improvisation and music production. Vince has developed his own system for teaching necessary music theory to students of all ages and performance levels.
Joel Levine
Recorder
Joel grew up in Philadelphia where he first learned to play the recorder in a pre-school music class at the Settlement Music School in Germantown. As a child, he loved to improvise and was drawn to the music he heard growing up in his home, on the radio, in the schoolyard, the playground, and the street. He studied the instrument with teachers but had little training beyond recorder lessons and performing with other musicians. He played in groups with Mickey Roker, Uri Caine, Steve Beskrone, Charles Fambrough, Ed Crockett and also had the opportunity to sit in with Philly Joe Jones, Bootsie Barnes, and Hank Mobley to name a few. In the early '90s, he recorded with Charles Fambrough on Keeper of the Spirit and met Lenny White on those sessions. In 2017 Levine joined IYOUWE, a loose knit growing tribal community and the name of a record label started by Lenny. Together with Lenny and IYOUWE, he released the first recording under his own name, The Whistleblower. In addition to Lenny White, the Whistleblower also features singer Chris Williams and guitarist Tom Guarna who will also be onstage together at the Woodstock Academy. Levine currently resides in Toronto, Ontario where he is a member of the Biology Department at the University of Toronto in Mississauga. But that's another story.
Chris Williams & Joy "Elysse" Hansen
Vocals
Chris is committed to pushing the boundaries of traditional music, at the same time without alienating the uninitiated listener. His music reflects the broad influences and experiences he has assimilated in his life. The exploration of sound and lyrical content is a major component of his music, utilizing the training he received in his roots of gospel, soul, R&B and pop music. In 2004 he established Platinum Thoughts Entertainment and continues to bring his imagination to life. In 2006 went on tour with Polish superstar Tatiana Okupnik, formally of the group Blue Café. There they opened for Jay-Z and Shaggy. Also in 2006 Chris, Lenny and rap artist Cab co-wrote and co-produced her first solo album that went gold. Also in 2007 Williams and Okupnik opened for the Rolling Stones Bigger Bang Tour. In 2008 Williams is participated in new projects for Tatiana Okupnik and Nikki Richards, who is background vocalistfor Madonna. Now teamed with Imperia Music Group and IYOUWE Music, Chris is taking his talents and gifts to the next level.
Joy "Elysse" Hansen is a Brooklyn-based vocalist and composer who creates cinematic, genre-bending music. The daughter of jazz saxophonist Don Hanson, Elysse was raised in Queens, NY on the sounds of Antonio Carlos Jobim, Sarah Vaughan, Burt Bacharach, and Stevie Wonder. Elysse displayed an early passion for academics and graduated from Princeton University at age 19 with a degree in English Literature. While pursuing an MA in Cultural Studies at NYU, Elysse discovered her talent for songwriting, taking cues from her varied influences to cultivate a panoramic, yet intimate style anchored in her passion for classic art and literature. Her performance credits span a number of NYC venues including The Blue Note, National Sawdust, Minton's Playhouse, Soho House, Joe's Pub, and Webster Hall. Elysse plans to release a forthcoming project of original music in the Spring of 2019.

Jazz at the Center: Lenny White & Friends is presented in part by:
Leonard White III (born December 19, 1949) is a three-time Grammy Award-winning American jazz fusion drummer, born in New York City, best known for being the drummer of Chick Corea's Return to Forever. A resident of Teaneck, New Jersey, White has been described as "one of the founding fathers of jazz fusion". Credits partially adapted from AllMusic and Discogs. With Azteca With Gato Barbieri * 1971: Fenix (Flying Dutchman) With Ron Carter * Stardust (Somethin' Else, 2001) With Stanley Clarke With Al Di Meola: With Return to Forever With Larry Coryell & Victor Bailey With Chaka Khan, Freddie Hubbard, Joe Henderson, Chick Corea & Stanley Clarke With others * 2011 – Jamey Haddad, Lenny White, Mark Sherman: Explorations in Space and Time (Chesky)
View Everyone
Who's Going?

Donald M

Teresa M

Gerald M

Greg E

Marilyn P