ROBIN - The Ultimate Robin Williams Tribute
Sat. Mar 25, 2023 at 7:00pm EDT
Event Description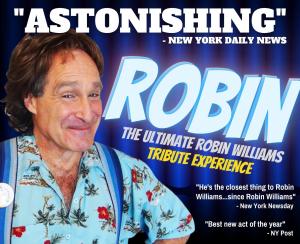 Roger Kabler is THE premier Robin Williams Impersonator in the world. He not only looks like Robin but acts like, sounds like and has the same joy of performing that made Robin Williams the beloved, Iconic comedian that he was. All of this is brought together in his award-winning show, ROBIN: The Ultimate Robin Williams Tribute. A wild, crazy, off-the-wall rollercoaster ride of all the memorable routines and Improvisation that made up a Robin Williams comedy concert.
Experience the greatest moments from a career that lasted a lifetime yet ended too soon as Roger explores the laughter and heart wrenching scenes that Robin is famous for delivering.
From Robin's stand up routines and his improv genius to his timeless performances as Mork or Mrs. Doubtfire, Genie or the Old Man, the characters will jump to life as Roger portrays the emotion and comedy of genius.
You may not believe your eyes or ears!
***This show is rated-PG, 100% clean comedy but not intended for children.***